We have over 25 years experience solving extremely complex royalties. In fact, we've never met a deal term or calculation exception we couldn't handle. Bring on the complicated contracts, terms, deals, revenue allocations, and more.
We were architected to manage volume in a complex world. Whether its hundreds or thousands of contracts, millions of titles or licenses, or billions of dollars entrusted to our platform, no one, including spreadsheets, manages volume like we do.
Custom tailored statements.
No need to buy off the rack statements. Every business and licensor or licensee has unique requirements. With Rightsline, you can create your own statement designs or templates, set statement cadence, manage statement generation, and deliver your way.
Dotting I's and crossing T's.
Ensuring royalty compliance is key to meeting legal and contractual obligations. That's why we dot every I and cross every T with security permissions, audit trails, risk mitigation, contractual addendums, and more. Trust Rightsline to have your back.
Used by the world's largest organizations for managing IP rights and accounting for a wide range of royalties, revenue sharing, and profit sharing deal types.
Trusted by the biggest names across diverse industries, we understand vertical quirks, unique business nomenclature, languages, UI needs, and more. We configure our royalties engine to your business instead of the other way around.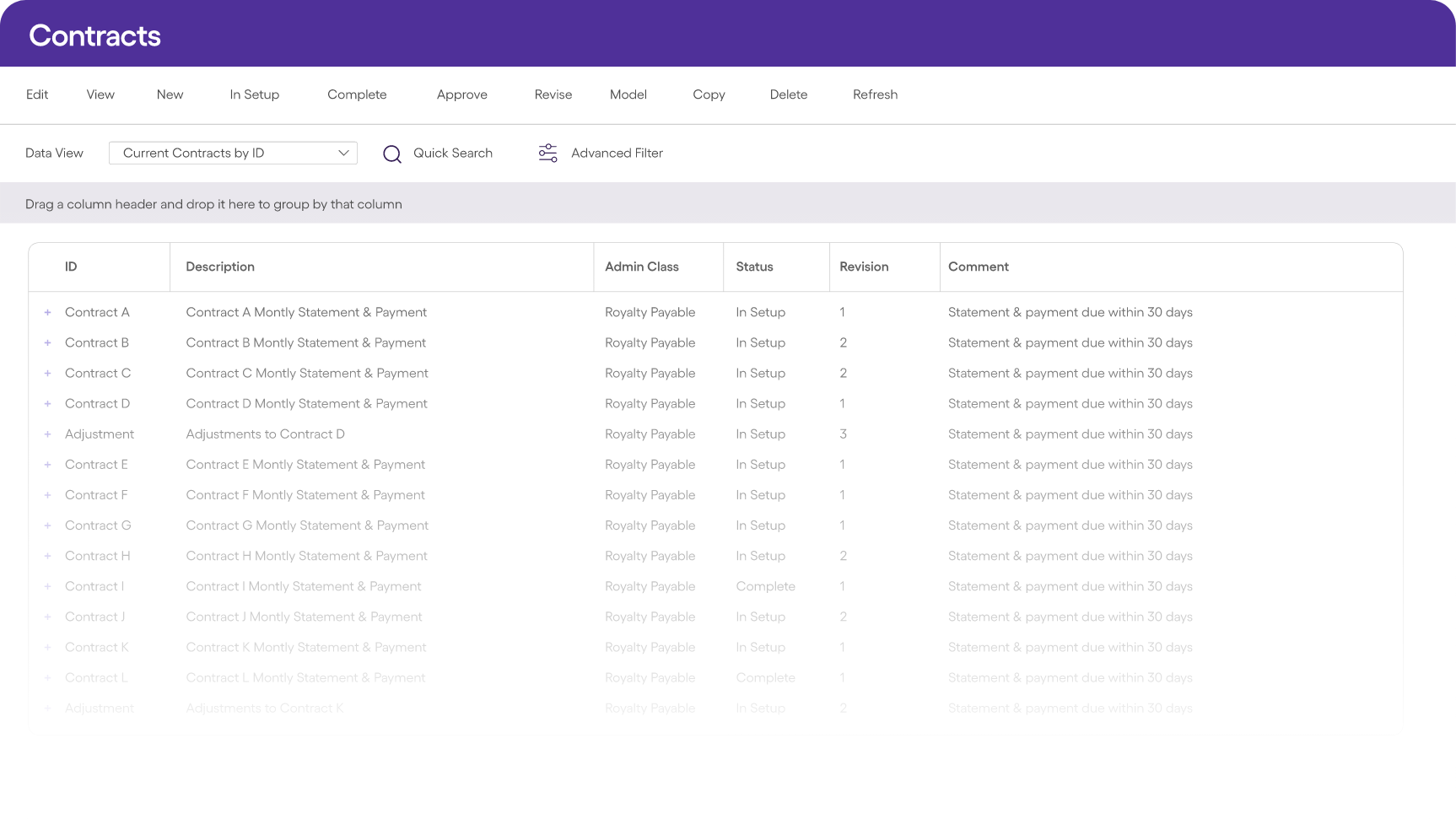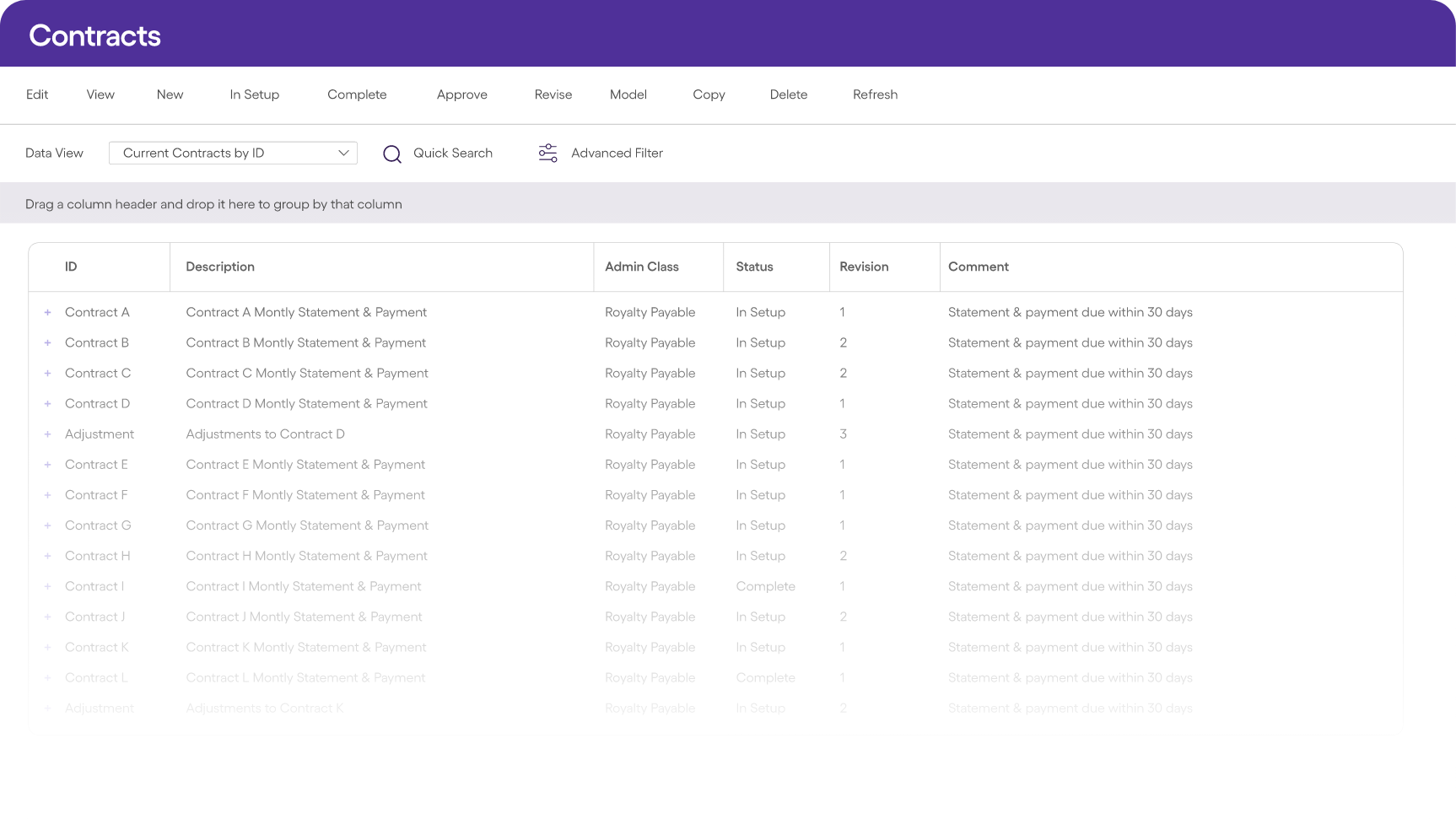 Reporting down to a science.
Unleash a granular level of reporting with Rightsline. Whether it's ISBN, month, format, channel, contract deal terms, or favorite color—you name it. Ok, maybe not favorite color. Our reporting tools lets you choose your own adventure and report on any level of detail with ease. With reporting this intuitive, anyone can run them.
Need to go back in time and amend a data file or contract, fix errors, adjust royalty rates, or more? No problem. With Rightsline, you can magically go retroactive and make any necessary changes. No time machine or DeLorean needed.
And play well with others.
At Rightsline, we pride ourselves on playing well with others. That's why our platform is agnostic and interoperable with legacy and traditional platforms, so you can keep using the systems you know and love.
"We've saved a lot of manual work and secured control over a complex process by leveraging the unique capabilities of Rightsline."
Everything you need to make managing royalties easy.
Complex Revenue Allocations

---

Bundle/Kit Explosion

---

Stacking Clauses

---

Subscription Revenue Proration

---

Variable Net Revenue/Profit Definitions

---

Multiple Royalty Methods
Transaction-Based Royalty Rates

---

Calculated/Imported Cap Deductions

---

Capitalized & Expensed Advances

---

Advance Recoupment

---

Variable Guarantees & Shortfall Payments

---

Contracts Bearing Other Contracts
Multiple Party Contracts & Participant Shares

---

Reserves & Liquidation

---

Currency Conversion & Taxes

---

Forecasting & 'What-If'

---

Ad-hoc Reporting

---

Flexible Statement Formatting
More Features
Already a fan of our royalties solution but ready to be in the cloud?
Learn more about our Alliant Cloud migration program.
Learn More
Partnered with 150+ top industry leaders around the world.